French Conversation Classes to Fit Perfectly With Your Unique Needs
Communicate Easily and Fluently with Strong French Language Practice
The Perfect Way to Maximize Your Progress!


The French Conversation Classes are Best for Learning How to Communicate Effectively in a French-speaking Environment
You'll get extensive conversation practice in Paris in a friendly and professional setting. You'll be given the opportunity to greatly improve your pronunciation, recreate authentic exchanges, and take part in discussions around specific themes that interest you
French conversation classes in Paris or online are ideal for those who already have a good grasp on the basics of the French language and want to improve their speaking skills, as well as to work on certain aspects such as grammar, conjugation, vocabulary and pronunciation. They are available at the intermediate and advanced levels.
Caroline is a native French speaker, and she has been offering comprehensive private lessons and tutoring with an amazing success for over 12 years.
​From day one, her students notice the improvement in their abilities and overall comprehension.
Each student has a unique learning style, and it's Caroline's duty to find out what that is and to adapt her lessons accordingly.

With Excellent Conversation French Lessons, You Can Become an Expert Speaker
Learning outcomes of the French Conversation Classes in Paris
be exposed to a variety of French idioms and vocabulary words, and learn how to use them in real-life contexts
pronounce the words correctly with personalized French phonetic exercises
use the appropriate syntax and grammar structures in sentences and questions
conduct fluent French conversations related to your immediate needs, personal interests, and familiar topics
create dialogues in French on various topics
discuss information presented in videos and short readings
compare and contrast customs and cultural differences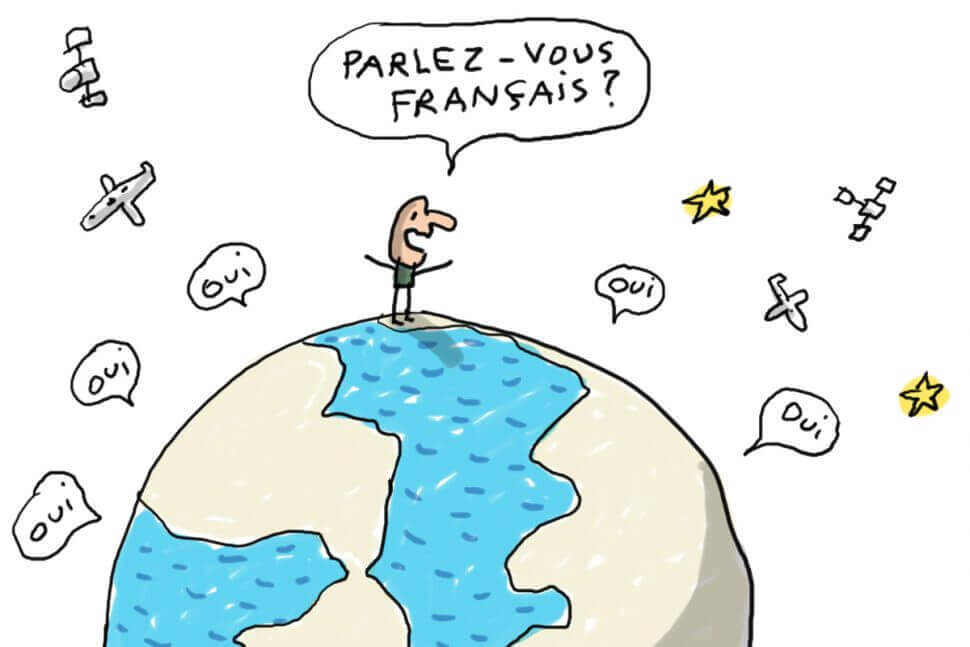 Caroline has been teaching in person and online French conversation classes with an amazing success for over 12 years
See what her students are saying about her professional tutoring services
"I have really enjoyed my conversational French lessons in Paris with Caroline. The subjects always vary and we discuss many topics, which pushes me to figure out the best way to express myself even though I might not have the particular vocabulary for the subject at hand. I feel that she has really helped me gain more confidence in my French conversational abilities because we had real conversations." Marissa.
My vocabulary has improved dramatically, and I am more confident in expressing myself in spoken French. Caroline is easy to talk to and I never feel uncomfortable in trying to come up with something to say. She makes our talks have a natural flow and supplies new words and phrases in a way that seems to be part of the discussion to help me when I get stuck. Kathryn.
Here Are Other Testimonials That Have Reaffirmed Caroline's Love for Teaching

Caroline is a wonderful French teacher! I had a 3 day private course with Caroline, followed by a further 4 day private course with my father. The lessons were pitched at exactly the right level for us and Caroline adapted the lessons according to our interest areas and the grammar points we wanted to focus on. My father and I enjoyed our French course so much and will be repeating the experience next year in Paris with Caroline. I highly recommend Caroline to anyone who would like to improve their French, whatever their level! She is a very knowledgeable, kind and encouraging French teacher. Merci beaucoup, Caroline!

Alexandra Neville
2021-11-22
I recently spent a month in Paris and was fortunate to find Caroline as a one-on-one tutor during my stay. I very much enjoyed our sessions, which were a combination of conversation and grammar. Caroline is professional, patient and customized the content of our lessons based on my interests (e.g., wine, culture, and food)! I highly recommend her personalized approach to language instruction. Additionally, she has a charming personality and is fully engaged in her student's success. I will most certainly work with her again when I return next year.

I arrived in Paris with nothing more than vague notions of French, and Caroline proved invaluable in getting me up to a conversational level in record time. Her individualised approach allowed me to focus on the relevant topics without following a preset curriculum - something that would not have been possible in a regular class. Classes were the perfect balance of grammar and conversation - never dull and, most importantly, always focused on communication, which quickly allowed me to speak confidently. I would definitely recommend Caroline's method!

I can't say enough good things about the intensive French course I took with Caroline. If you are serious about learning French, she'll be your best teacher. She is a very experienced, humorous and patient language teacher. I have learned a lot and continue to apply the knowledge still today whilst living in France. Highly recommended.

I spent 6 weeks in Paris and Caroline helped me dramatically improve my reading, writing, speaking and overall comprehension! She adapted her teaching and lessons to my lifestyle and learning curve -- spending more time on areas that were difficult for me and teaches phrases that I would frequently use in my personal circumstances. She also has great recommendations around Paris to get the most out of your time visiting!

huyen tran dang tran
2021-09-01
I found myself in Paris for a month and wanted to use the opportunity to improve my rudimentary French. I explored the option of private tutoring. Caroline came highly recommended and the one-to-one classes were perfect. We focused on reading, speaking, and listening and I found a noticeable improvement in all three over the course of the month. Caroline is friendly and professional. I felt very comfortable in the lesson and there was a great mix of conversation and exercise. 100% would book again when I return.

jean-phi pereira
2021-08-29
Caroline is professional, always on time, and she's an amazing language instructor. Not to mention, she has the utmost patience, as I do not always say or pronounce things correctly. Her teaching style helps you perfect your speaking, grammar and pronunciation. I look forward to seeing her every week for my French lesson.

Antonia Schirgi
2021-07-25
I took some private French lessons to prepare some important presentations that I had to do for my work/studies. Caroline really helped me a lot (finding the right expressions, improving the grammar, pronunciation). Furthermore, she showed real interest in my work and even looked up some specific vocabulary for me. And Caroline is a very nice person. I can definitely recommend her classes.

Ekaterina Salmanova
2021-06-16
If you are looking for a great French language teacher in Paris, you've found her. Caroline is one of the best language teachers I have ever known. I say this with the confidence of someone who is a language teacher herself and who has taught Russian for many years in New York. I started regularly coming to Paris three years ago. I was looking for a tutor to help me improve my practical French. When I started working with Caroline I quickly realized how lucky I was to have found her. She knows the language in all its aspects and knows how to teach it effectively. She explains difficult points clearly and with great precision. She provides all the necessary materials (the texts and exercises that she gives are interesting and fun to do). I don't think there was a question regarding grammar, usage or etymology that she could not answer. She is particularly good at explaining how modern conversational language works, what is proper to say in various situations, and how not to make "faux pas." She has a remarkable ability to be at once easy going and thorough. On many occasions after our conversations I would receive an email from her with additional information on grammar, word usage, cultural peculiarities, etc. Practicing conversational French with her has been extremely rewarding. Caroline turned out to be exceptionally attentive to my own personal needs. Her experience teaching in America gives her insight into my "typical" English-language mistakes and misperceptions as well as an immediate understanding of how to remedy existing problems. Her encouragement is wonderful. Studying with Caroline I gained confidence as well as improved my ability to speak. I also received a lot of important cultural insights. Talking to Caroline on various topics - from complex linguistic questions to the quality of baguettes in the local bakery - has been delightful. In short, she is an ideal teacher/tutor for my needs - for my relatively advanced practical experience with shaky underpinnings. And as a language teacher myself, I think I have high expectations: Caroline more than meets them, and so I keep coming back. I hope I am as satisfying a pupil for her as she is a wonderful tutor for me.

Having just moved to Paris, I needed a local (same time zone) tutor to help me with my French lessons. Caroline has been a perfect match. She quickly assessed my current ability and has been working diligently to help me progress. She is patient and readily adapts the plan to the individual student. I recommend her highly!
Conversational French Classes in Paris – Highlights
The French conversational classes in Paris or online are conducted entirely in French.
The online sessions are taught on ZOOM or Skype by a native speaker and qualified tutor, fully committed to your learning and progress. You will get extensive French conversation practice and feedback on your vocabulary, grammar and pronunciation.
Caroline tailors her French conversation course in Paris or online to suit your needs, level, and objectives. She is also open to questions or suggestions from her students.
Choose between intermediate and advanced French conversation lessons.
Having intensive or regular French conversation practice in Paris is a great learning experience and gives you the skills and confidence to engage in communication.
Get Access to The Most Comprehensive French Speaking Course
The course is 100% spoken and Caroline will make some notes for you. What you get is :
two hours of conversation practice online or in Paris
on a wide range of subjects chosen by you or your native-French speaking teacher
correction of mistakes and explanations when necessary
vocabulary with useful French expressions
some insights into the French cultural codes and constructive feedback to avoid making mistakes in social situations.
Interested in French Conversation Classes Online or in Paris?
Contact Caroline to Know More About her Language Courses.